How do I register for NBT?
Why do I have to register?

The NBT Project and the local sites guarantee space and materials only for learners registered to write at a specific site on a specific day.
Test sites and rooms are reserved with a fixed number of seats. The number of writers at a site is limited to the number of seats available. When registration reaches capacity, we work to increase available seats. When registration is very low at a site, the testing session may be cancelled.
Registration information allows the NBT Project to contact writers if a test is moved to a different location, delayed or cancelled due to emergencies such as strikes, weather conditions, or power outages.
A few days before the test date, NBT materials are sent to sites based on registration. Immediately following a test session, all NBT materials are returned – including unused tests and answer sheets. Adherence to test security policies prevents the NBT Project from shipping surplus materials.
Registration does not 'roll-over' to a later session if you miss the scheduled date. Each test session has a unique set of testing materials. Test materials are prepared with the name and ID number of registered writers for each test session.
What do I need in order to register for a NBT writing session?

You must have your official ID booklet or foreign passport. You are required to enter your ID number and your name exactly as it appears in your ID booklet. You also need to check the following before you select the date and test site:
Your school's calendar for sporting and social events, holidays, and exams;
Closing dates and application deadlines at all institutions where you intend to apply;
The language of instruction where you are applying; and
Your transportation options to the test site.
How do I register?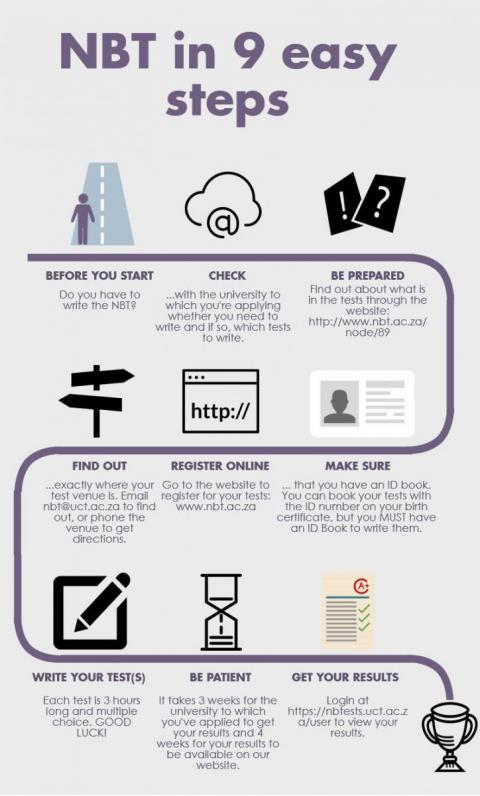 You must register on the Internet. Click on "Book a Test" and then simply follow the prompts. A letter confirming your registration and with an EasyPay barcode will be available for you to download and print immediately after you click on 'Submit'.
If you can access the Internet on your cell phone, you can go to the NBT website in the same way as you would to other sites. After entering your personal information, you can obtain your NBT registration letter and EasyPay barcode in one of two ways:
Enter your email address and the letter will be sent for you to download and print later; or
When you have access to a computer and printer, return to http://nbt.uct.ac.za, log-in with your ID, and then print the letter.
You must take this NBT registration letter to an EasyPay Paypoint near you to pay the testing fees. You may also pay on the EasyPay website: www.easypay.co.za and then print out your receipt.
What if I want to change my registration to a later date?

Registration for the NBTs is specific to the date and location you select. You are allowed to make changes to your registration online until the closing date posted on the test schedule. Once registration closes for that test date, you cannot make any changes. If you miss the test for which you are registered, you must register again and pay again in order to write the NBTs.
Remember that the test materials are unique for each test date; a new set of test materials must be prepared for you in order for you to write on a later date.
What if I get sick or have a family emergency?

If an emergency prevents you from writing the test for which you have registered, you must send an e-mail to nbt@uct.ac.za as soon as possible. NBT Project staff will contact you the following week to explore your options for a make-up test. With documentation of a legitimate emergency (like a doctor's certificate, or a police incident report), you may not be required to pay a second time.
Legitimate situations that have occurred in the past include taxi accident on the way to the test site, hospitalization, broken collar bone, and family funeral.
Writers that become sick during the NBTs are always offered the next available writing session. However, the entire test must be written at the make-up session as partial answer sheets are not scored.
What if I did not register? Can I still 'pitch up' and write the NBTs?
NBT test materials are sent to each site based on the number of registered and paid writers. The NBT Project is only responsible for providing seats and test materials for registered writers.
NBT test materials are prepared for each learner that is registered. Materials prepared for learners that do not show up cannot be used again and must be destroyed.
Learners that register but do not show up are still responsible for the cost of these materials and the officials hired to administer the writing session.
Learners intending to apply to universities must act responsibly. You must register, pay, and show up on time!